EXTERNAL LAPPING TOOLS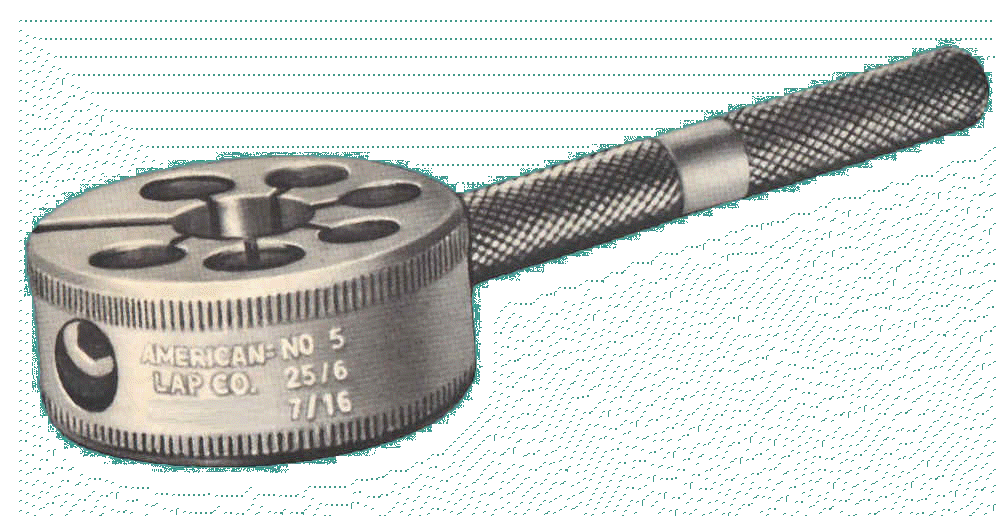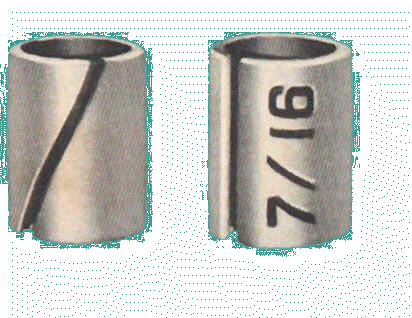 External laps are used to lap the outside diameter of cylindrical products, they are also used to dress internal laps. The laps are made of a fine grain lapping iron and come with either straight or spiral expansion slots. To use the External Lap the technician needs a External Lap Holder. The lap is inserted into the holder and held from rotation by a cup point set screw. External Lap Holders provide the lap adjustment by means of a screw. The holders are made of harden tool steel and then precision finished.
Key Benefits
External Laps are quickly adjusted.
External Laps are capable of holding tolerances to 5 millionth of an inch.
External Laps come in straight or spiral slots.
---
| | | | | | | | |
| --- | --- | --- | --- | --- | --- | --- | --- |
| SIZE | HOLDER NO. | LENGTH | PART NO. | LENGTH | PART NO. | LENGTH | PART NO. |
| 1/16 | O | 1/2 | 1EX116 | 3/4 | 2EX116 | 1 1/2 | 3EX116 |
| 5/64 | O | 1/2 | 1EX564 | 3/4 | 2EX564 | 1 1/2 | 3EX564 |
| 3/32 | O | 1/2 | 1EX332 | 3/4 | 2EX332 | 1 1/2 | 3EX332 |
| 7/64 | O | 1/2 | 1EX764 | 3/4 | 2EX764 | 1 1/2 | 3EX764 |
| SIZE | HOLDER NO. | LENGTH | PART NO. | LENGTH | PART NO. | LENGTH | PART NO. |
| 1/8 | 1 | 1/2 | 1EX18 | 3/4 | 2EX18 | 1 1/2 | 3EX18 |
| 9/64 | 1 | 1/2 | 1EX964 | 3/4 | 2EX964 | 1 1/2 | 3EX964 |
| 5/32 | 1 | 1/2 | 1EX532 | 3/4 | 2EX532 | 1 1/2 | 3EX532 |
| 11/64 | 1 | 1/2 | 1EX1164 | 3/4 | 2EX1164 | 1 1/2 | 3EX1164 |
| 3/16 | 1 | 1/2 | 1EX316 | 3/4 | 2EX316 | 1 1/2 | 3EX316 |
| SIZE | HOLDER NO. | LENGTH | PART NO. | LENGTH | PART NO. | LENGTH | PART NO. |
| 13/64 | 2 | 1/2 | 1EX1364 | 3/4 | 2EX1364 | 1 1/2 | 3EX1364 |
| 7/32 | 2 | 1/2 | 1EX732 | 3/4 | 2EX732 | 1 1/2 | 3EX732 |
| 15/64 | 2 | 1/2 | 1EX1564 | 3/4 | 2EX1564 | 1 1/2 | 3EX1564 |
| 1/4 | 2 | 1/2 | 1EX14 | 3/4 | 2EX14 | 1 1/2 | 3EX14 |
| SIZE | HOLDER NO. | LENGTH | PART NO. | LENGTH | PART NO. | LENGTH | PART NO. |
| 17/64 | 3 | 1/2 | 1EX1764 | 3/4 | 2EX1764 | 1 1/2 | 3EX1764 |
| 9/32 | 3 | 1/2 | 1EX932 | 3/4 | 2EX932 | 1 1/2 | 3EX932 |
| 19/64 | 3 | 1/2 | 1EX1964 | 3/4 | 2EX1964 | 1 1/2 | 3EX1964 |
| 5/16 | 3 | 1/2 | 1EX516 | 3/4 | 2EX516 | 1 1/2 | 3EX516 |
| SIZE | HOLDER NO. | LENGTH | PART NO. | LENGTH | PART NO. | LENGTH | PART NO. |
| 21/64 | 4 | 1/2 | 1EX2164 | 3/4 | 2EX2164 | 1 1/2 | 3EX2164 |
| 11/32 | 4 | 1/2 | 1EX1132 | 3/4 | 2EX1132 | 1 1/2 | 3EX1132 |
| 23/64 | 4 | 1/2 | 1EX2364 | 3/4 | 2EX2364 | 1 1/2 | 3EX2364 |
| 3/8 | 4 | 1/2 | 1EX38 | 3/4 | 2EX38 | 1 1/2 | 3EX38 |
| SIZE | HOLDER NO. | LENGTH | PART NO. | LENGTH | PART NO. | LENGTH | PART NO. |
| 25/64 | 5 | 1/2 | 1EX2564 | 3/4 | 2EX2564 | 1 1/2 | 3EX2564 |
| 13/32 | 5 | 1/2 | 1EX1332 | 3/4 | 2EX1332 | 1 1/2 | 3EX1332 |
| 27/64 | 5 | 1/2 | 1EX2764 | 3/4 | 2EX2764 | 1 1/2 | 3EX2764 |
| 7/16 | 5 | 1/2 | 1EX716 | 3/4 | 2EX716 | 1 1/2 | 3EX716 |
| SIZE | HOLDER NO. | LENGTH | PART NO. | LENGTH | PART NO. | LENGTH | PART NO. |
| 29/64 | 6 | 1/2 | 1EX2964 | 3/4 | 2EX2964 | 1 1/2 | 3EX2964 |
| 15/32 | 6 | 1/2 | 1EX1532 | 3/4 | 2EX1532 | 1 1/2 | 3EX1532 |
| 31/64 | 6 | 1/2 | 1EX3164 | 3/4 | 2EX3164 | 1 1/2 | 3EX3164 |
| 1/2 | 6 | 1/2 | 1EX12 | 3/4 | 2EX12 | 1 1/2 | 3EX12 |
| SIZE | HOLDER NO. | LENGTH | PART NO. | LENGTH | PART NO. | LENGTH | PART NO. |
| 17/32 | 7 | 1/2 | 1EX1732 | 1 | 2EX1732 | 2 | 3EX1732 |
| 9/16 | 7 | 1/2 | 1EX916 | 1 | 2EX916 | 2 | 3EX916 |
| 19/32 | 7 | 1/2 | 1EX1932 | 1 | 2EX1932 | 2 | 3EX1932 |
| 5/8 | 7 | 1/2 | 1EX58 | 1 | 2EX58 | 2 | 3EX58 |
| SIZE | HOLDER NO. | LENGTH | PART NO. | LENGTH | PART NO. | LENGTH | PART NO. |
| 21/32 | 8 | 1/2 | 1EX2132 | 1 | 2EX2132 | 2 | 3EX2132 |
| 11/16 | 8 | 1/2 | 1EX1116 | 1 | 2EX1116 | 2 | 3EX1116 |
| 23/32 | 8 | 1/2 | 1EX2332 | 1 | 2EX2332 | 2 | 3EX2332 |
| 3/4 | 8 | 1/2 | 1EX34 | 1 | 2EX34 | 2 | 3EX34 |
| SIZE | HOLDER NO. | LENGTH | PART NO. | LENGTH | PART NO. | LENGTH | PART NO. |
| 25/32 | 9 | 1/2 | 1EX2532 | 1 | 3EX2532 | 2 | 3EX2532 |
| 13/16 | 9 | 1/2 | 1EX1316 | 1 | 3EX1316 | 2 | 3EX1316 |
| 27/32 | 9 | 1/2 | 1EX2732 | 1 | 3EX2732 | 2 | 3EX2732 |
| 7/8 | 9 | 1/2 | 1EX78 | 1 | 3EX78 | 2 | 3EX78 |
| SIZE | HOLDER NO. | LENGTH | PART NO. | LENGTH | PART NO. | LENGTH | PART NO. |
| 29/32 | 10 | 1/2 | 1EX2932 | 1 | 2EX2932 | 2 | 3EX2932 |
| 15/16 | 10 | 1/2 | 1EX1516 | 1 | 2EX1516 | 2 | 3EX1516 |
| 31/32 | 10 | 1/2 | 1EX3132 | 1 | 2EX3132 | 2 | 3EX3132 |
| 1 | 10 | 1/2 | 1EX1N | 1 | 2EX1N | 2 | 3EX1N |
| SIZE | HOLDER NO. | LENGTH | PART NO. | LENGTH | PART NO. | LENGTH | PART NO. |
| 1 1/16 | 11 | 3/4 | 1EX1N18 | 1 1/2 | 2EX1N16 | 2 1/2 | 3EX1N16 |
| 1 1/8 | 11 | 3/4 | 1EX1N18 | 1 1/2 | 2EX1N18 | 2 1/2 | 3EX1N18 |
| 1 3/16 | 11 | 3/4 | 1EX1N316 | 1 1/2 | 2EX1N316 | 2 1/2 | 3EX1N316 |
| 1 1/4 | 11 | 3/4 | 1EX1N14 | 1 1/2 | 2EX1N14 | 2 1/2 | 3EX1N14 |
| SIZE | HOLDER NO. | LENGTH | PART NO. | LENGTH | PART NO. | LENGTH | PART NO. |
| 1 5/16 | 12 | 3/4 | 1EX1N516 | 1 1/2 | 2EX1N516 | 2 1/2 | 3EX1N516 |
| 1 3/8 | 12 | 3/4 | 1EX1N38 | 1 1/2 | 2EX1N38 | 2 1/2 | 3EX1N38 |
| 1 7/16 | 12 | 3/4 | 1EX1N716 | 1 1/2 | 2EX1N716 | 2 1/2 | 3EX1N716 |
| 1 1/2 | 12 | 3/4 | 1EX1N12 | 1 1/2 | 2EX1N12 | 2 1/2 | 3EX1N12 |
| SIZE | HOLDER NO. | LENGTH | PART NO. | LENGTH | PART NO. | LENGTH | PART NO. |
| 1 9/16 | 13 | 3/4 | 1EX1N916 | 1 1/2 | 2EX1N916 | 2 1/2 | 3EX1N916 |
| 1 5/8 | 13 | 3/4 | 1EX1N58 | 1 1/2 | 2EX1N58 | 2 1/2 | 3EX1N58 |
| 1 11/16 | 13 | 3/4 | 1EX1N1116 | 1 1/2 | 2EX1N1116 | 2 1/2 | 3EX1N1116 |
| 1 3/4 | 13 | 3/4 | 1EX1N34 | 1 1/2 | 2EX1N34 | 2 1/2 | 3EX1N34 |
| 1 13/16 | 13 | 3/4 | 1EX1N1316 | 1 1/2 | 2EX1N1316 | 2 1/2 | 3EX1N1316 |
| 1 7/8 | 13 | 3/4 | 1EX1N78 | 1 1/2 | 2EX1N78 | 2 1/2 | 3EX1N78 |
| 1 15/16 | 13 | 3/4 | 1EX1N1516 | 1 1/2 | 2EX1N1516 | 2 1/2 | 3EX1N1516 |
| 2 | 13 | 3/4 | 1EX2N0 | 1 1/2 | 2EX2NO | 2 1/2 | 3EX2NO |
| SIZE | HOLDER NO. | LENGTH | PART NO. | LENGTH | PART NO. | LENGTH | PART NO. |
| 2 1/8 | 14 | 1 | 1EX2N18 | 2 | 2EX2N18 | 3 | 3EX2N18 |
| 2 1/4 | 14 | 1 | 1EX2N14 | 2 | 2EX2N14 | 3 | 3EX2N14 |
| 2 3/8 | 14 | 1 | 1EX2N38 | 2 | 2EX2N38 | 3 | 3EX2N38 |
| 2 1/2 | 14 | 1 | 1EX2N12 | 2 | 2EX2N12 | 3 | 3EX2N12 |
| SIZE | HOLDER NO. | LENGTH | PART NO. | LENGTH | PART NO. | LENGTH | PART NO. |
| 2 5/8 | 15 | 1 | 1EX2N58 | 2 | 2EX2N58 | 3 | 3EX2N58 |
| 2 3/4 | 15 | 1 | 1EX2N34 | 2 | 2EX2N3/4 | 3 | 3EX2N34 |
| 2 7/8 | 15 | 1 | 1EX2N78 | 2 | 2EX2N78 | 3 | 3EX2N78 |
| 3 | 15 | 1 | 1EX3NO | 2 | 2EX3NO | 3 | 3EX3NO |
| SIZE | HOLDER NO. | LENGTH | PART NO. | LENGTH | PART NO. | LENGTH | PART NO. |
| 3 1/2 | 16 | 1 | 1EX3N12 | 2 | 2EX3N12 | 3 | 3EX3N12 |
| 3 3/4 | 16 | 1 | 1EX3N34 | 2 | 2EX3N34 | 3 | 3EX3N34 |
| 4 | 16 | 1 | 1EX4NO | 2 | 2EX4NO | 3 | 3EX4NO |
| 4 1/4 | 16 | 1 | 1EX4N14 | 2 | 2EX4N14 | 3 | 3EX4N14 |
ALL DIMENSIONS ARE IN INCHES
Special sizes are available from stock or in 5-7 days
EXTERNAL LAP HOLDERS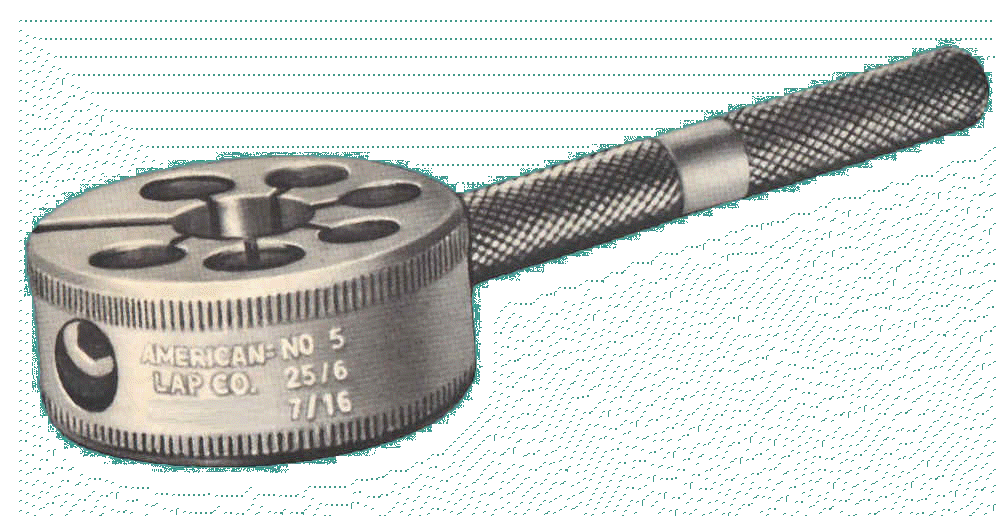 | | | | | | | |
| --- | --- | --- | --- | --- | --- | --- |
| HOLDER NUMBER | LENGTH | PART NUMBER | LENGTH | PART NUMBER | LENGTH | PART NUMBER |
| 0 | 1/2 | LH012 | 3/4 | LH034 | 1 1/2 | LH0NI2 |
| 1 | 1/2 | LH112 | 3/4 | LH134 | 1 1/2 | LH1N12 |
| 2 | 1/2 | LH212 | 3/4 | LH234 | 1 1/2 | LH2N12 |
| 3 | 1/2 | LH312 | 3/4 | LH334 | 1 1/2 | LH3N12 |
| 4 | 1/2 | LH412 | 3/4 | LH434 | 1 1/2 | LH4N12 |
| 5 | 1/2 | LH512 | 3/4 | LH534 | 1 1/2 | LH5N12 |
| 6 | 1/2 | LH612 | 3/4 | LH634 | 1 1/2 | LH6N12 |
| 7 | 1/2 | LH712 | 1 | LH71N | 2 | LH72N |
| 8 | 1/2 | LH812 | 1 | LH8IN | 2 | LH82N |
| HOLDER NUMBER | LENGTH | PART NUMBER | LENGTH | PART NUMBER | LENGTH | PART NUMBER |
| 9 | 1/2 | LH912 | 1 | LH91N | 2 | LH92N |
| 10 | 1/2 | LH1012 | 1 | LH101N | 2 | LH102N |
| 11 | 3/4 | LH1134 | 1 1/2 | LH111N12 | 2 1/2 | LH112N12 |
| 12 | 3/4 | LH1234 | 1 1/2 | LH121N12 | 2 1/2 | LH122N12 |
| 13 | 3/4 | LH1334 | 1 1/2 | LH131N12 | 2 1/2 | LH132N12 |
| 14 | 1 | LH141N | 2 | LH142N | 3 | LH143N |
| 15 | 1 | LH151N | 2 | LH152N | 3 | LH153N |
| 16 | 1 | LH161N | 2 | LH16N2 | 3 | LH163N |
ALL DIMENSIONS ARE IN INCHES
Special sizes are available from stock or in 5-7 days